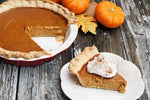 Welcome to the Plant-Based Holiday Food Heaven Guide from COCOGLOW!  Below you will find some of our favorite recipes, as well as some of our favorite ready-made products for holiday meals.  From vegan cheeses to side dishes, main courses, and desserts, we've got you covered!
Recipes
Cream of Mushroom & Sage Soup 
A perfect first course for any holiday meal, and packed with veggies and flavor!  This blended soup is a hit with plant-based folks and meat eaters, alike.  The seasonal sage adds a cozy traditional flavor.  Get the recipe here. 


Vegan Caesar Salad - Having a salad at a holiday meal is a nice way to keep things from getting too heavy and rich across the board.  We love this simple recipe from Oh She Glows with chick-pea croutons, homemade veggie parmesan  crumbles, and homemade dressing.  This is another one that people tend to love whether they eat meat or not.  Get the recipe here.
Vegan Gravy -  Now this recipe will sound a little weird, but we promise you will be pleasantly surprised!  A three ingredient vegan gravy made from dark miso, tahini, and orange juice makes for a surprisingly perfect flavor combination.  Rich, satisfying, and healthy!  We recommend tripling or quadrupling the recipe even though gatherings will not likely be very large this year.  The recipe as written makes a small portion.  Get the recipe here.

Roasted Root Veggies - We love having lots of veggie-heavy side dishes at any holiday meal.  This one from My New Roots is easy, delicious, and healthy.  We like to add brussels sprouts to the mix as well.  Get the recipe here.
Best Vegan Mac & Cheese 
Our most popular recipe! The creamy pasta sauce gets its texture from cashews and butternut squash.  Roasted broccoli adds a nice flavor and additional veggie boost to an already rich and cheesy mac. 
Get the recipe here.
Raw Pecan Pie Bars - We love this recipe from Detoxinista!  You can make it in a pie dish instead of squares for a more festive version.  Get the recipe here.
Pumpkin NiceCream Squares 
This is a super tasty and easy recipe for creamy frozen pumpkin nice cream squares, perfectly spiced and lightly sweetened.  One of our very favorite treats during Fall/Winter.  Get the recipe here. 
Traditional Baked Pumpkin Pie - Most vegan pumpkin pie recipes are disgusting.  I think it's fairly tricky to get it right without eggs.  Most of the recipes I have tried are almost chewy and dense due to thickeners, or they are close to gelatinous - again due to the starches.  However, after many test versions, there is a great recipe from The Kind Life that comes out well for me time and again.  You may want to adjust the spices a bit - I increase the cinnamon and decrease the nutmeg/cloves a bit.  Otherwise, the consistency and flavor come out great!  Get the recipe here.
Cranberry Sauce - Make your own, and cut down on the refined sugars.  Combine fresh cranberries, a pinch of vanilla bean powder, and fresh squeezed orange juice (1 or 2 oranges, depending on how big/juicy they are).  Let it simmer on low-medium heat until the cranberries pop open and it will eventually become sauce-like.
Baked Almond Cheese - This recipe is from the Maple Spice blog.  I don't think she posts new recipes on her blog anymore, but she has left her website up since she stopped blogging.  There are some amazing recipes on there, and this super easy recipe for almond feta has been a go-to of mine for years.  Everybody loves it, vegan or not.  I even made several of these the day before my wedding and made my own cheese platters for each table.  There is nothing I have ever made that gets as many compliments as this...and it is very easy to make, with only a handful of ingredients.  Make sure to use almond flour with the skins removed, not the almond meal that includes the skins.  This makes all the difference in this recipe!  Serve it with crackers & grapes, and people will be thanking you left and right!  Find the recipe here.
Vegan Swaps & Treats
See below for our favorite vegan swaps & treats for holiday recipes.  Please keep in mind that some of them are not the healthiest treats.  This is the holiday season; we are all indulging in a bit. If I can help someone avoid spending $12 on the wrong vegan cheese, I will do it.
Best Vegan Butter - Miyokos, hands down!  I'm sure there are brands I haven't tried yet.  However, of the widely available brands, Miyokos makes the absolute best vegan butter.  It is cultured like butter, has the consistency of butter, and it tastes like butter.  Depending on what you are doing, coconut oil can often be a decent swap.  It doesn't taste the same, but being a plant-based saturated fat (meaning hard when cold and liquid below room temperature), it behaves in a very similar way when you are cooking.
Vegan Whipped Cream - ReddiWhip, Trader Joe's, or Make Your Own 
Last year, ReddiWhip came out with an almond milk version and a coconut milk version of the canned whipped cream.  Trader Joe's recently introduced an oat milk version as well.  If you are looking to replace the traditional version of store-bought whipped cream, these are your products.  I personally like the ReddiWhip coconut version better.  ( I believe both versions contain coconut products).  It comes out of the can with the same light consistency as the whipped cream of my childhood. Note:  Whole Foods just introduced one that is oat milk based.  It has a bit of a grainy consistency, and many people have reported problems with the canister breaking after a couple uses.  It tastes good, but it's my least favorite of all the ones I've tried.  The Trader Joe's one is the cheapest option, and tastes great.
A healthier option is to buy a can of full fat coconut milk, chill thoroughly in the fridge, take it out (do NOT shake it), scrape the fat layers off the top, and whip that into a cream with a beater.  This is insanely delicious, but it has to be super cold, not shaken, and eaten fairly soon afterward. It is easier to whip if you chill the bowl and beaters in the fridge as well. 
Best Vegan Roast - Field Roast En Croute.  This is a grain roast, with a cranberry hazelnut stuffing, wrapped in a flaky buttery vegan croissant pastry.  It is not gluten free (most aren't if you are looking for a pre-made vegan roast).  I am also a fan of the Tofurky roast at Thanksgiving.  Again, this is a highly processed "treat" food, and not gluten free.  However, it is tasty and nostalgic, and comes with a wild rice stuffing.  I will say that I find no value in the Tofurky meal package found in some grocery stores.  The chocolate cake is not good, the wishbone is a tradition I find particularly icky & barbaric (even in a vegan setting), and the gravy is just not my bag (some people really like it).  I just don't find the value for the additional cost.  Both the Field Roast and the Tofurky can be found in the freezer section of most grocery stores during the holiday seasons.  If you are gluten free, or into making something yourself, there are tons of online recipes for vegan wellingtons or roasts that don't contain gluten.  Just hit up google and you will find something that works for you.  
Vegan Marshmallows - Dandies, but get the big ones, not the little ones.
Best Vegan Cheese - Vtopian  If you are in Portland or somewhere that has it...the ABSOLUTE BEST CULTURED VEGAN CHEESE! You will find it in several health grocers and coops around Portland.  They also have a shop on SW Jefferson Street.  They have so many cheese varieties, and you can mix and match the options to make your own cheese plate at their shop in SW Portland.  If I could send you to one place to try a special vegan item, this would be it.  If you don't live in Portland, OR (or a place with a grocer that carries Vtopian cheeses), look for fermented nut cheeses in your area.  Miyokos is available most places, and they make some good options for cultured vegan cheeses, more widely available. The Vegan Essentials website will have some options available for online order as well.
Best Pumpkin Pie - This is a tough one.

Buy a Pie - Again, most vegan pumpkin pies are disgusting.  Warning - the two worst ones I have ever tried are the New Seasons and the Whole Foods vegan pumpkin pies.  As much as I usually enjoy both bakeries, this is a total misfire.  They come out very dense and chewy, clearly using a recipe that was not written by someone that specializes in plant-based baking. 
Petunia's Pies & Pastries in Portland makes a vegan & GF pie that totally gets the texture right.  The flavor is a bit tangy and lemon-y though.  Not quite the traditional flavor of a pumpkin pie, but still tastes good and manages to avoid the texture mistakes of most bakeries and recipes.
My favorite version was always from Back to Eden Bakery in Portland, OR (vegan & GF).  They closed during COVID.  However, I recently noticed that Ritual Sweetcraft has taken up shop in their Alberta location.  They actually hired Back to Eden's head baker - and the pumpkin pie is available in their sweet shop!!  This is my number one favorite holiday treat in town!  It has  a traditional pasty crust and pumpkin pie filling, but it is also topped with coconut cream.  Seriously the best pumpkin pie I have ever had.  If you live in Portland, it doesn't matter if you're vegan or GF...it's hard not to enjoy this pie. 
Vegan Ice Creams - If we are looking at ice creams widely available in stores...perhaps vanilla ice cream to go with pies...my two favorites are Oatly, and Coconut Bliss.  If you are in Portland, Virtuous Pie makes incredible plant-based ice cream.  You can get it ready to eat, or you can buy to-go pints from their freezer.  One other note:  if you are looking for an ice cream that doesn't have a lot of sugar, So Delicious makes a vanilla ice cream (coconut based) that has no sugar added.  I buy this one a lot, because I try to avoid sugar most often.
Chocolate Chips - It's generally easy to find vegan chocolate chips, because a lot of the bittersweet or dark chocolate has no milk.  My favorite chocolate chips are the Lily's brand, because they are stevia sweetened (without the weird after-taste).  If you are watching your sugar intake, this is a great option.  I believe they make a vegan version, as well as a non-vegan version, so be sure to check the label if you are vegan. Another brand I like (a little cheaper, but does contain sugar) is Enjoy Life.
General things to have on hand - Nutritional yeast, coconut oil, unsweetened almond or oat milk, raw cashews, pink sea salt, full fat unsweetened coconut milk cans, pomegranate seeds, and basically any olives or pickled items for snacking...
Let us know in the comments if you have a favorite holiday recipe or product.  We would love to hear more recommendations!
Happy Holiday Season,
-Nicole & Emily