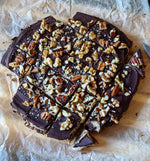 Vegan, mostly raw, and free of refined sugars & gluten, these chocolate peanut butter caramel bars are amazing!  These have four layers - a crust, peanut butter, caramel, and chocolate.  They make a pretty big batch, so it's worth the few steps to make each layer.  You won't be sorry!  Plus, after you've made them once, you'll be much faster at whipping up a batch the next time.  Speaking from experience...
This time, we are skipping the biography preceding the recipe.  So, here you go!  The first time I made these it felt like it took a million years, but now it's pretty quick and easy; I put the steps in the most efficient order.  The first two steps need to be done in advance, fyi.  Enjoy!
Put a can of full fat coconut milk in the fridge overnight or for 8 hours
Put 8 pitted medjool dates to soak in some water for at least an hour. Longer is fine.
Combine 2nd layer (peanut butter layer) ingredients in bowl until you have a dough.  Place in freezer 1 hour.
Combine all base layer (crust) ingredients in food processor until you have a dough.
Line a 10" pan or pie dish (I use a 10" Pyrex pie dish) with parchment or plastic wrap.
Spread base layer dough evenly across the bottom of the pan.  Place in freezer. (Sometimes if the pecans are super fresh, the base layer is super oily.)  If that happens I usually just put a little almond flour down on the parchment before I press the base layer in.  Not totally necessary, but something I do.
Drain/rinse the soaked dates. Combine all 3rd layer caramel ingredients in blender until smooth.  For the coconut milk cream, take the can out of the fridge and scrape the layer of cream off the top.  Use half to most of it, it will taste good either way. Don't use the liquid from the can. Save that for soups or smoothies later. Set the caramel mixture aside for now.
Create a dough ball with the 2nd layer now that it's a bit firm. Flatten the ball out like a pancake.  Place on top of base layer and use your fingers to spread it out to cover the base layer. The colder it is, the easier it is to spread it out.
Pour the 3rd layer (caramel mixture) on top of the peanut butter layer and use a spoon to spread it out to the edges.  Place the pan back in the freezer while you melt the chocolate for the top layer.
Melt 1 cup dark chocolate chips (I use the Lily's stevia-sweetened vegan ones).  I put the chips in a Pyrex bowl, and then place that bowl in a shallow pan of water on the stove on low heat.  Stir occasionally until it melts smooth.
Remove the pan from freezer and pour melted choc on top.  Smooth it out over the whole top with a spoon.  Do this quickly because the chocolate will start to harden on top since the dish is cold.  Sprinkle chopped nuts on top if you like (optional).
Tip:  Pull the whole thing out by the parchment paper when the chocolate is just barely firm.  Put it on a cutting board (still on the parchment) and cut it into squares or pie slices.  Put it back in the freezer or fridge to fully harden and set in place for a few hours.  If you wait until later to cut it, the chocolate will be hard and it will break all over the place. 
Store in fridge (or freezer if you want to save some for later).
Base Layer (Crust) Ingredients:
- 1 cup dried unsweetened coconut flakes
- 1 cup pitted medjool dates - (these are not the soaked ones - those are for the caramel)
- 1 cup raw unsalted pecans
- 1 tablespoon coconut oil
- 1 tablespoon Cocoglow Classic or just cacao if you don't have cocoglow
- 1/3 cup oats
- 1/2 teaspoon sea salt
- 1/4 teaspoon cinnamon
- 1/4 cup almond flour (this could be subbed for more oats if you need to).
2nd Layer (Peanut Butter) Ingredients:
- 1/2 cup unsalted peanut butter - heaping, overfill a little
- 1/2 cup almond flour - heaping, overfill a little.


3rd Layer (Caramel) Ingredients:
- 8 large medjool dates - pitted and soaked at least one hour
- 1 teaspoon vanilla bean power or vanilla extract
- big spoonful almond butter (or another nut butter if you don't have almond) 
- 1/2 teaspoon sea salt
- 1/4 cup coconut oil, melted
- 1/2 to 3/4 the cream off the top of the full fat unsweetened coconut milk can (cold).

Top Layer (Chocolate):
- 1 cup dark choc chips of your choice
- chopped nuts for garnish if you like.


We promise this recipe is less work than it sounds like.  Mostly you're just blending things up and spreading them out in a pan.  You will love the results!