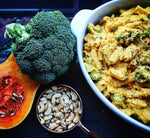 I have tried a lot of vegan macaroni and cheese recipes in my day.  Let's be honest...in the vegan mac & cheese department, there are a lot of losers out there.  Still, I persisted.  Vegan cheese R&D will not be stopped!  With each recipe, I found something that made a big difference in the flavor and made a mental note for next time.  After many years of testing them out, I've finally pieced together a mac & cheese recipe that I LOVE.  It's easy to make a gluten free version as well.  Just use your favorite gluten free pasta, and you'll be all set.  The best part about this recipe is that it is made up of whole food ingredients.  No creepy thickeners or heavily processed vegan cheese products here!  It's absolutely packed with veggies (secret ingredient!) and nutrients...with amazing flavor.
My family has tried previous versions of this recipe over the years.  However, Emily and I served it at Friendsgiving this last month, and it was the first time a big group of people got to try it.  Luckily, it was a major hit with vegans and non-vegans alike.  Highly recommended as a side dish for upcoming holiday dinners! 
Ingredients:
16 oz preferred brand of pasta elbows or shells (I use Ancient Grains gluten free quinoa pasta.)
2 small-medium broccoli crowns
1 teaspoon coconut oil
Little bit of olive oil
For the Sauce:
½ medium butternut squash, peeled, cubed, and steamed
1 ½ cups raw unsalted cashews (soaked)
2 teaspoons tomato paste
1 ¼ teaspoons good quality sea salt
½ teaspoon stoneground mustard
½ cup nutritional yeast (heaping)
¼ teaspoon garlic powder
½ teaspoon turmeric
¼ teaspoon black pepper
1 ¼ cup unsweetened plain almond milk
Tiny sprinkling of cayenne pepper
Juice of 1 – 2 fresh lemons (you'll want a little more than an 1/8 cup)
Instructions:
- Soak cashews in water overnight (or at least 4 hours). 
- Peel & cube half a medium butternut squash.  Steam it.
- Preheat oven to 350 degrees
- Chop broccoli crowns into little florets.  Spread out on parchment paper on baking sheet.  Sprinkle with a little bit of sea salt, black pepper, and garlic powder (just a little; NOT the amounts listed above for the sauce ingredients.  That will be too much.)  Add the teaspoon of coconut oil and toss around the broccoli to coat.  Bake until lightly roasted, probably about 10 minutes.
- Boil water to cook pasta according to instructions on box.  Be careful not to overcook. 
- While pasta is cooking, make the cheese sauce.  
- Drain & rinse the cashews.  Place them in a Vitamix or high powered blender, along with the rest of the sauce ingredients, EXCEPT the steamed butternut squash.  Blend until completely smooth.
- Add the butternut squash to the blender and blend on high again until mixture is completely smooth.  The mixture will make for a pretty full blender, so that is why it's easier to blend up the cashews first and then add the butternut squash after.  You'll have an easier time getting a smooth consistency.  You may need to use a tamper or stop to scrape the sides down a time or two.
- When pasta is done cooking, drain & rinse it.  Transfer to large, oven-safe casserole or Pyrex dish (I usually use the 9" x 13" Pyrex).  Immediately drizzle the pasta with some olive oil, and toss it.  This will keep it from getting too sticky or dry.  Add in the roasted broccoli.  Pour in the cheese sauce from the blender.  Mix until well combined.
- (Optional Step)  Sprinkle top with a light dusting of nutritional yeast, black pepper, salt, and any herbs you like (chives/paprika..etc.)
- Place dish in oven just long enough to heat up (since the sauce will not be hot.)   About ten minutes usually does the trick for me.
- Remove from oven, and serve.  Enjoy!
We hope you test this recipe out.  It's really one of my favorites!  Let us know what you think in the comments. Thanks for reading!