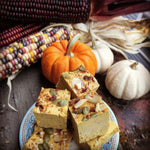 Fall has arrived!  It's October, there is a chill in the air, and pumpkin spice mania is in full swing.   This season fills us with inspiration and anticipation for all the amazing things to look forward to in the coming months.  Fall fashion, trips to the pumpkin patch, crisp air, fresh cider, Halloween costumes...and obviously the annual screening of Hocus Pocus!  Simply put, it is the most wonderful time of the year (to us).  We are kicking it off with a special treat.  These vegan, gluten free pumpkin pie nice cream squares are the absolute perfect fall dessert.  They are creamy, flavorful, and decadent.   
As usual, these pumpkin pie treats are free of refined sugars, and we've kept the ingredients list clean.  They may look fancy, but they are so easy to make.  Just toss all ingredients into a blender and transfer to a dish...then prepare to impress your friends and family!  There is a little bit of prep time (soaking cashews & letting the mixture set).  So, be sure to read the full recipe before getting started. That way, you'll be able to serve these as planned.  
One last thing... I feel we would be remiss if we didn't mention that a certain local Portland 6 year old with a very sophisticated palate recently rated these a 10 stars out of 10.  She's a pretty formidable foodie, so we have full confidence you will enjoy these pumpkin pie nice cream squares.  Give them a try!
Ingredients:
1 1/2 cups raw unsalted cashews (soaked 8 hours)
1 1/2 cups pumpkin puree (canned or fresh)
1/2 cup brown rice syrup
1/4 cup maple syrup
3/4 cup coconut oil
1 1/4 teaspoon cinnamon
1/2 teaspoon vanilla bean powder
1/4 - 1/2 teaspoon pink Himalayan sea salt
1/4 teaspoon ground nutmeg
1/4 teaspoon ground ginger
1/8 teaspoon ground cloves
1/8 teaspoon cardamom (omit if you are not a fan of this spice)
2 tablespoons lucuma powder (optional, adds a hint of caramel flavor and a nutritional boost)
Toppings - (Optional):  Pumpkin seeds, cinnamon, cacao nibs, coconut shreds, almonds, pecans...etc.
Instructions:
Place cashews in a glass bowl and fill with filtered water.  Let soak about 8 hours or overnight.
Drain & rinse the cashews.  Place in high powered blender, along with all other ingredients (excluding toppings).  Blend until the mixture has an extremely smooth and creamy consistency.  You may have to stop to scrape down the sides of the blender a few times.
Line a freezer friendly dish with parchment paper.  I use a 10 x 8 inch Pyrex glass dish for this.  Pour the pumpkin puree mixture into the parchment lined dish.  If you are adding toppings, sprinkle them on at this point.  
Place the dish on a flat surface in the freezer.  Let it set for 8 hours or overnight.  Take it out about 10 - 15 minutes before serving to let it thaw a bit.  Cut into squares.  Store in a covered container in the freezer.  

This makes a rather large batch, so you will be able to enjoy these for a while.  It's the perfect treat to have stored away in the freezer so you can treat yourself to a sweet, seasonal pumpkin treat whenever you like.  Be sure to take them out about 10 - 15 minutes in advance, just like you would with ice cream.  
Serving Tip:  Here is my absolute favorite way to enjoy these pumpkin pie nice cream squares!  Serve with a scoop of coconut cream or yogurt, pomegranate seeds, and an extra sprinkling of cinnamon.  I really can't imagine a more satisfying October dessert.

Happy Fall from CocoGlow!  We would love to know what your favorite pumpkin spice treat is.  Let us know in the comments!