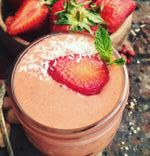 I've been hitting the farmers' markets around town a lot lately.  Truth be told, I wish I could fast forward through the rest of Summer, dust off my sweaters & boots, and get on with the tradition of Fall pumpkin patch visits and Hocus Pocus viewings.  Still, I'll admit that there is something special about the end of summer produce.  Stone fruits and berries are everywhere, and they pair perfectly with Summer's (hopefully) final punch in the face....a long stretch of super scorching, 100 degree days.  This smoothie is the perfect whole foods refresher for the last hot days of summer.  It's vegan, gluten & refined sugar free, and insanely delicious.
Most often, I incorporate at least one veggie into my smoothies.  This one, however, is mostly comprised of fruit, with a few nutrient boosting superfood mix-ins.  It's definitely more of a treat than something I'd drink every morning.  But we all need a treat when we're trying to wear our new fall clothes and the temperatures just won't quit.  Even so, the ginger, goji berries, chia seeds, and maca/lucuma amp up the nutrient content big time.
Ingredients:
1 1/2 cups frozen strawberries (freeze a bunch from the farmers' markets to keep for fall!)
1 banana
1/2 nectarine
Juice of 1 lime (squeezed fresh)
1 inch piece of fresh peeled ginger
1 teaspoon chia seeds
1 tablespoon goji berries (optional)
1 teaspoon lucuma or maca powder (optional)
1 cup almond milk
Instructions:
Place all ingredients in a high powered blender and blend until you have a smooth consistency. Serve and drink right away.  Enjoy!
Tip:  If you want to make a smoothie bowl, pour it into a bowl and top with fresh berries, seeds, and/or dried coconut flakes.

Thank you for stopping by!  Let us know how you're enjoying the the end of summer farmers' market treats in the comments.