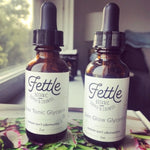 Your complexion provides a window into your overall health. As the body's largest organ, our skin absorbs what we put on it, making it important to choose makeup and skincare products carefully. It seems ironic that many products marketed to accentuate beauty, from lipstick to face wash or body lotion, contain toxic ingredients that interrupt hormone function, which often leads to skin problems in the first place! 
I love finding makeup and skincare products from companies that are committed to using good quality ingredients. Similar to the Hippocratic Oath, I believe that our personal care products should aim to first do no harm. As a Chinese medicine practitioner, I often prescribe herbs and supplements to patients with skin disorders such as acne, discoloration, eczema, dryness or premature aging. Healthy skin relies on both a healthy hormonal system and a healthy liver - supplements can help correct deficiencies so that both of these function properly. Of course a healthy diet, stress management and proper sleep are vital as well. Here are 5 of my favorite natural products that I use daily, hope you enjoy!
 
1. Fettle Skin Glow & Liver Tonic Glycerine
These little tinctures pack a punch. They are taken by dropperful 3 times per day. They are beautifully packaged and taste slightly sweet. I like to take these in the morning, particularly after a night of drinking wine or staying up too late. The Liver Tonic contains milk thistle and dandelion root, both of which draw toxins out of the body and support the liver. If the liver is working properly it purifies the blood, aids in hormone production, detoxifies the body, stabilizes glucose production and ensures proper nutrient absorption from food.  A stressed liver can lead to a dry, lusterless complexion, dark spots and/or break-out prone skin. The Skin Glow Glycerine contains a blend of root that purify the skin. 

2. Milk Thistle and Berberine supplements
Milk thistle and berberine are two of my favorite supplements for healthy skin. Milk thistle is a powerful liver detoxifier. Silymarin, the main phytochemical contained in milk thistle protects the skin from UV damage and protects cells from free radical damage throughout the body, which can slow the aging process. It also improves digestion and lowers blood sugar and LDL cholesterol.

Berberine, or Huang Lian, has been used for ages in Chinese medicine for a wide array of health benefits. It is a powerful herbal supplement with many pharmacological properties - it lowers blood sugar, regulates metabolism and improves heart health. Several studies show that Berberine may also be effective as a weight loss supplement. Stable blood sugar is vital for healthy skin. Often insulin resistance can lead to acne and inflammation on the skin. Berberine lowers blood sugar, which explains part of its beneficial effect on skin and weight. Its powerful antibiotic, antioxidant and anti-inflammatory properties also make it very effective in treating acne. It reduces testosterone in women, which can also contribute to acne. Most patients notice improvement in their acne within 6 weeks of taking berberine. 
3. Beauty Counter No. 3 Balancing Charcoal Skin Collection
Beauty Counter is a great source for non-toxic skincare and makeup products that work. The company has high standards and prohibits the use of over 1,500 harmful or questionable commonly-used ingredients, so you can rest assured what you are putting on your skin is safe. They publish ingredients for each product on their website. The No. 3 Balancing Set works well for slightly oily or combination skin. The charcoal powder and kaolin clay absorb excess oil, pull impurities from the skin and reduce redness. I use the charcoal mask weekly and the ylang-ylang infused oil daily. The alcohol-free mist is great for revitalizing the skin mid-day, especially during the hot summer months. 
4. Valentina's Naturals Hydrating Body Oil
Many of us use body lotion over our entire bodies daily. Therefore it is important to choose a safe moisturizer. I love this body oil and use it daily. A little goes a long way - I typically mix it with coconut oil or jojoba oil to make it go further. The rose/cardamom scent is really light but also slightly musky. 
5. Kate's Magic Ylang Ylang Anointing Oil
Kate's Magic Anointing Oils are beautiful blends of essential oils that smell amazing! The Ylang Ylang / Rose formula is my favorite. Traditional perfumes contain harmful chemicals that can disrupt hormones and cause allergic reactions. A loophole in the FDA allows these products to hide these chemicals from their ingredient list by listing it as a proprietary "fragrance" on the label. Many include ingredients derived from petroleum! There is nothing sexy about putting petroleum on your skin! Perfume oils are a wonderful alternative to synthetic fragrances. This brand is also vegan and cruelty free.