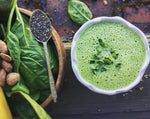 Green smoothies are everywhere these days, and for good reason.  It's a quick and delicious way to get some fresh greens into your system.  Dark, leafy greens are a great source of iron for those of us that don't eat meat, AND they contribute to high energy levels and pretty, glowing skin.  If you're not a fan of eating greens raw, green drinks are the easiest way to work them into your diet.  This recipe is fairly simple; no obscure ingredients required!  It's got you covered for greens, protein, and taste!  As usual, it's vegan, gluten & refined sugar free.
Now, when it comes to my greens intake, I employ a strategy.  I love eating kale, and I find that it doesn't break down as well as other greens in smoothies (even in my beloved Vitamix).  Why would I blend it up when I enjoy eating it so much?  It would feel like a waste of perfectly good kale that I could otherwise be eating sauteed in coconut oil, sea salt, and nutritional yeast (hint, hint, try this out!)  Spinach, on the other hand, I do not like at all.  Raw, cooked, braised....no thanks, not interested.  However, it blends perfectly into smoothies with a super smooth consistency.  The best part is you'd never guess from the taste that you were drinking a glass of spinach.  I dislike the expression "kill two birds with one stone" for obvious reasons, but that's the general idea here.  
Ingredients:
1 large banana
1 teaspoon chia seeds
1 heaping spoonful of nut butter of your choice (almond or peanut are both great)
1 cup packed raw baby spinach
1 cup unsweetened plain almond milk
2-3 ice cubes (optional, but I have a strong preference for a cold smoothie)
Instructions:
Place all ingredients in a high powered blender and blend until you have a smooth consistency.  Serve and drink right away.  A stale smoothie is nobody's friend.  Enjoy!
Tips:
Feel free to start small with the amount of spinach and increase it each time you make the smoothie.  I often put closer to two cups of spinach in, but I had to work my way up to it.  Adding a bit of microgreens is a nice greens boost as well.  If you prefer a sweeter smoothie, add a pitted medjool date.  Another delicious variation is to add a spoon of cacao nibs for a cookies and cream type smoothie. 
This is my favorite morning smoothie, and I've even got my dad drinking it now.  This drink has fueled many a Monday morning when I would have rather smashed my alarm clock and stayed in bed.  I hope you like it!  Let us know in the comments what your go-to green smoothie is!