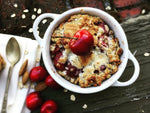 I have never liked oatmeal.  The texture always put me off.  I actually tried really hard to get used to it, because it smells so good and is such an easy way to get a nutrient-rich breakfast.  No luck...until I tried baked oatmeal!  It's like a mixture of a little, personalized cake, and an oatmeal cookie.  Now, that's a breakfast I can get on board with!  This recipe is naturally sweetened, vegan, gluten free, and super delicious.  It makes two small ramekin servings.
This week, I saw the first of the season's cherries at the markets and couldn't wait to make something with them!  Cherries are one thing I have always liked.
Ingredients:
- 1 large ripe banana
- 1 tablespoon chia seeds
- 1 tablespoon coconut oil (plus more for greasing the ramekins)
- pinch good quality sea salt
- 1/4 teaspoon ground vanilla bean (or 1/2 teaspoon vanilla extract)
- 1/2 teaspoon cinnamon
- 1/4 teaspoon cardamom (optional)
- 1/4 teaspoon ground ginger (optional)
- 1 cup rolled oats (certified gluten free if necessary)
- 7 tablespoons almond milk (or non-dairy milk of your choice)
- 1/2 cup pitted cherries
- 1/4 cup chopped almonds
- 2 tablespoons unsweetened shredded coconut
- Toppings - coconut butter & coconut cream (optional)
*Note about the coconut cream:  Take a can of full fat, unsweetened organic coconut milk and put it in the fridge for a few hours before using.  Do not shake it.  Open it, and spoon the thick cream off the top.  You can whisk this up to make a really nice cream topping.  It's good on top of smoothies, soups, oatmeal...etc.  Store it in a glass tupperware after opening the can.  It lasts for about 4 days in the fridge.
Instructions:
Preheat the oven to 375 degrees.  Grease two ramekins with coconut oil.  Additionally, melt one tablespoon of coconut oil in the oven. 
Mash the banana and mix in the chia seeds, vanilla, melted coconut oil, sea salt, cinnamon, ginger & cardamom (if using) until well combined.
Add in the oats, nutmilk, cherries, coconut shreds, and almonds.**
Spoon oat mixture evenly into ramekins. Top with a spoonful of coconut butter (optional, but highly recommended!)  Bake for 18-20 minutes.  The coconut butter topping will be browned.
Remove from oven and let them cool for -10 minutes.  Top with coconut cream, fresh fruit, nuts...whatever you like!  Enjoy!
**Note:  Feel free to use other nuts, seeds, or fruit if cherries and almonds aren't your favorites.  I often make this with peaches and raspberries, or whatever fresh fruit I see at the markets.  The same goes with the spices.  If you don't like cardamom or ginger, don't use them.  This is meant to be a base recipe that anyone can customize to their personal tastes!
Thank you for reading, and let us know your favorite oatmeal mix-ins in the comments below!