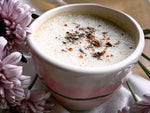 It's time to relax!  And what better way to do that than with a delicious, nourishing drink that also works to calm the body?!  Magnesium, an essential mineral for the human body, is a very common deficiency among us.  This is a shame, considering how amazing it is.  Magnesium aids the body's ability to absorb and use calcium, helps to reduce pain & alleviate muscle cramps, regulates metabolism, promotes heart health & reduces blood pressure, andhas a general calming effect on the body.  Pumpkin seeds are an excellent source of naturally occurring, plant-based magnesium.  They also happen to make a really delicious plant milk!
A friend of mine recently mentioned to me that she felt almost as if she'd taken an anti-anxiety pill after drinking a pumpkin seed shake.  I instantly thought, "Ooh!  Time to take that one step further!"  I incorporated calming lavender (and chamomile if you like it) to make for a more flavorful, peaceful drink.  This is absolutely amazing to have before bed or after yoga!
Ingredients:
- 1 cup raw, unsalted pumpkin seeds
- 3 cups water (plus more for soaking)
- 3 pitted medjool dates
- 1.5 teaspoons dried lavender flowers
- 1/4 teaspoon vanilla bean powder
- pinch good quality sea salt (I used pink Himalayan sea salt.)
- Garnishes of additional lavender flowers, vanilla bean powder, cinnamon, or chamomile flowers (optional)
Instructions:
Soak the pumpkin seeds for 8 hours.  Place the pumpkin seeds in a large glass bowl.  Cover with filtered water, and add a tablespoon of lemon juice or apple cider vinegar.  Cover the bowl with a tea towel and let sit on the kitchen counter for about 8 hours.  I usually set them to soak before going to bed so I can use them in the morning.  Or, set them to soak when you leave the house in the morning and they'll be ready for you when you get home later.  After soaking, drain and rinse thoroughly.  Rinse out the large glass bowl, as you'll use it later.
Make a lavender tea by boiling 3 cups of water and steeping the dried lavender flowers in it.  You can use any loose leaf tea implement to do this.  I just use a loose leaf tea pot.  Be careful not to let the tea steep for too long, as lavender can get a bit astringent, about 6 - 8 minutes.  Let the tea cool before moving on to the next step.
Place the soaked, rinsed pumpkin seeds in a high powered blender.  Add the lavender tea (you'll want 3 cups of liquid total).  Blend on high until thoroughly combined.   A couple minutes in the Vitamix works for me. 
Hold nutmilk bag over large glass bowl.  Slowly pour the contents of the blender into the nutmilk bag.  A creamy liquid will drain into the bowl.  Squeeze the nutmilk bag to get all the liquid out and into the bowl. 
Pour strained pumpkin seed milk back into blender.  Add in the vanilla bean powder, dates, and pinch of sea salt.  Blend on high until completely smooth and creamy.  Your magic milk is ready!  It will keep in the refrigerator for 2 or 3 days.
To serve, pour into glasses, and garnish the top with a few lavender flowers, chamomile flowers, cinnamon, and/or vanilla.  Garnishes are completely optional, but they enhance flavor and look pretty.  This can be served warm or cold.
Give this drink a try when you're looking for a calming, nourishing treat.  It feels especially indulgent and delicate as part of a bed-time routine.  Let us know your go-to routines for relaxation and calm in the comments!