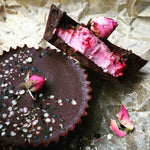 Raw chocolate is an amazing treat to have around the house, and it feels extra satisfying to know you made it yourself. It's also a really fun way to include adaptogens, herbs, or superfoods in your diet.  They mix in perfectly, enhance the flavor, and add a major nutrient boost.  The chocolate base in this post is my go-to recipe.  You can make it by itself and have a batch to snack on all week, or you can make something fancy and indulgent, like these Raw Raspberry Rose Coconut Butter Cups!
Ingredients
Raw Chocolate:
- 1/2 cup raw cacao butter
- 1/2 cup raw cacao powder
- 3 tablespoons coconut sugar
- 1 tablespoon coconut butter
- pinch pink Himalayan sea salt
- 1/4 teaspoon ground vanilla bean powder
- 1 teaspoon lucuma powder
- 1 teaspoon mesquite
- 1/2 teaspoon maca powder
Raspberry Filling:
- 1/4 cup coconut butter
- handful of raspberries
- 1 teaspoon maca powder
- juice squeezed from half a fresh lime
- dried rose petals (optional, but really delicious!)
Toppings:
- hemp seeds
- black sesame seeds
- rosebuds (whole or a sprinkling of the petals)
Instructions
Place all raw chocolate ingredients in a double boiler situation.  I use an oven-safe glass Pyrex dish to hold the chocolate ingredients.  Then, place the Pyrex dish in a shallow pan of hot water. You don't want the water to boil, just to warm up enough to melt the cacao butter.  Whisk occasionally until all ingredients are combined and you have a melted chocolate.  Taste test to see if it is sweet enough.  I do not like my chocolate very sweet chocolate, so it's possible you'll want to add a little more coconut sugar.  The chocolate mixture will be a little grainy, fyi.
Line a muffin tin with muffin papers.  This makes 6-8 large cups.  You could use a mini muffin tin with papers to make smaller ones if you like.  Pour a little of the chocolate mixture in the bottom of each muffin paper, just enough to cover the bottom.  You will reserve the majority of the chocolate for the top later on.  Place muffin tin in freezer for ten minutes, until chocolate hardens.
While you wait, create the filling.  Mash together the raspberries, coconut butter, lime juice, and maca powder with a fork until combined.  If it's very cold, you may want to warm the coconut butter just a little so it softens enough to mash easily.  (You can do this by placing the jar in hot water for a few minutes.)  Taste test and add more lime juice if you like.  You may also add a teaspoon of coconut sugar if you prefer a sweeter treat.  Though, I prefer them as is.  Place in the refrigerator for a few minutes to firm up the filling. 
Take muffin tin out of freezer.  Spoon a little bit if filling into each one.  Flatten slightly with a fork.  Cover with remaining melted chocolate mixture.  Add a sprinkling of hemp seeds, black sesame seeds, and dried rose petals or rosebuds (optional), and place back in freezer to harden for about 15 or 20 minutes. 
Store them in the refrigerator, and take them out 5 - 10 minutes before eating.  Enjoy!
It is such a treat to share this recipe.  My hope is that at least one person tries it and enjoys it.  Feel free to let me know in the comments if you have any questions!  Or, if you have a favorite flavor combination you like to make chocolate treats with, we are all ears!!