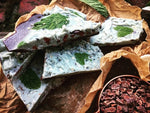 First things first...happy new year!  It's the first day of 2018, and I am so excited to see what the year will bring.  I thought it would be fun to share a healthy treat, instead of a cleanse this year.  Don't get me wrong, I will be hitting the green juice and veggie soups hard this January, but it's also fun to have a treat on hand that doesn't derail your wellness efforts.  This peppermint cacao bark is just the thing.  It's vegan, gluten free, & refined sugar free.  It can easily be made raw and/or completely sugar free as well.  (I used to make the sugar free version all the time when I was fighting off Perioral Dermatitis.)  It was a lifesaver.
If you're looking for a nutritious sweet snack to have on hand, this fits the bill.  It has healthy fats, low sugar, and a few superfood boosts from the cacao and spirulina.  You can also boost the nutrient content and make it look pretty by adding garnishes of fresh mint leaves and hemp seeds!
Ingredients:
- 1 1/2 cups coconut butter (coconut manna is the same thing)
- 2 1/2 teaspoons alcohol free peppermint extract
- 1/4 teaspoon vanilla bean powder OR 1/2 teaspoon vanilla extract
- 1 very tiny pinch pure stevia (optional, but makes a bit sweeter. do NOT use too much)
- 1/4 cup cacao nibs
- 2 tablespoons coconut oil
- 1/2 teaspoon spirulina powder (for green color and a nutrient boost)
- 1 1/2 cups dairy free chocolate chips of your choice (Lily's for sugar free version)**
- Garnish (optional) - mint leaves, hemp seeds, black sesame seeds...etc...
**NOTES:  To make the sugar free version, omit the chocolate and make peppermint bark alone...OR use a stevia sweetened chocolate.  Lily's makes vegan, stevia sweetened dark chocolate chips.  Not all of their products are dairy free, so make sure to check the label.  To make the raw version, omit the chocolate, or make your own raw chocolate. (We'll be posting a recipe for raw chocolate soon.)  Chocolate is not required; the bark is delicious on its own!
Instructions:
- Line a 9" x 13" Pyrex pan with parchment paper.
- Melt the chocolate chips (if using) in a double boiler. Or, place a saucepan on the stovetop on low heat with a shallow amount of water. Then place a Pyrex dish in the pan of water and pour chocolate chips in the Pyrex dish.  Do not let any water get into the chocolate or it will ruin.  Make sure the pan isn't on high enough heat to have the water boil and splash into the Pyrex dish of chocolate.  
- Once chocolate is completely smooth, pour into parchment lined pyrex dish.  Smooth out with a spoon to cover the entire bottom of the pan.  Place in refrigerator to cool and harden.
- Use a similar double boiler situation to melt the coconut butter.  Place it in a pyrex dish in the pan of shallow water on the stove.  
- Add in the coconut oil, spirulina, peppermint extract, vanilla, and tiny pinch of stevia.
- Once mixture is melted and smooth, stir in the cacao nibs.
- Pour the coconut butter mixture over the cooled, hardened chocolate in the parchment lined Pyrex dish.
- OPTIONAL - Garnish the top of the bark with fresh mint leaves, hemp seeds, and sesame seeds.
- Place dish back in refrigerator until bark has completely cooled and hardened....at least an hour.
- Once bark has completely cooled, remove from refrigerator and break the bark into pieces.  Keep it stored in the fridge, as the coconut butter base will begin to soften and melt once it gets to room temperature.  
- Enjoy!!
Here's to the healthiest, happiest year yet, filled with good food, good friends, and lots and lots of self care! 2018 is wide open and full of opportunity and possibility for all of us.  Just think how much we can accomplish if we take good care of ourselves, our planet, our animals, and each other all year long.  Please enjoy this delicious peppermint cacao crunch bark, and let us know what you think.  Happy New Year from CocoGlow!  CHEERS! - Nicole & Emily