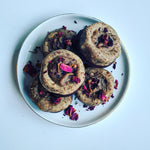 Yes, cookies!  We served these recently at Emily's baby shower, and they were a crowd-pleaser all around.  Baking has never been my strong suit, so I was really happy when I discovered I could make really delicious raw cookies in my dehydrator.  I've always loved raw desserts and cheesecakes, because the ingredients are so tasty, healthy, and filling.  It's surprising how satisfying a raw vegan cookie can be.  These cardamom cookies have an oat & almond base, with a coconut milk & date caramel filling.  A sprinkling of dried rose petals on top and an optional chocolate dip make these the perfect treat!  Whether you need a little dessert or something to have with your morning coffee/tea, these are a great treat to have on hand! 
NOTE:  You will need a dehydrator to make these.  I used to only associate dehydrators with fruit leather.  Since my parents gave me their dehydrator, I've realized you can do so much more with one!  It's now one of my must-have kitchen tools.  You can make portobello mushroom jerky, seed crackers, cookies, tart shells, dry your own herbs, and lots more.  You can also dehydrate the pulp from making almond milk, and then you have sprouted almond flour! 
INGREDIENTS:
Cookie Dough:
- 2 cups almond flour or almond meal
- 2 cups oats (ground into a flour in a blender) OR buy oat flour
- 3/4 cup maple syrup
- 1/2 cup almond butter
- 1 teaspoon cardamom (omit if you don't like cardamom)
- 1 teaspoon vanilla bean powder
- 3/4 teaspoon pink Himalayan salt
Caramel Filling:
- 10 pitted Medjool dates (soaked in water)
- 1/2 cup coconut oil (melted)
- 1 can unsweetened full-fat coconut milk (chilled in fridge)
- 2 heaping spoonfuls almond butter
- 1 teaspoon vanilla bean powder
- 1/2 teaspoon pink Himalayan salt
- dried rose petals (optional - for garnish)
Chocolate Dip (Optional):
- 1 cup dark chocolate chips (I used Lily's stevia-sweetened vegan chips)
INSTRUCTIONS:
Prep:  Put the can of coconut milk in the refrigerator several hours before you plan to make the cookies, or the night before. 
- Combine all the ingredients for the cookie dough in a large mixing bowl, and stir until combined.  The dough will be a bit dry.  Cover the bowl and place it in the refrigerator to chill for a few hours or overnight. 
- After the dough has chilled, place the pitted dates in a bowl and cover with fresh water.  Set aside.  Let them soak for an hour (no worries if you leave them soaking longer though).
- Form the dough into thumbprint cookies and place on the dehydrator tray. 

Take a spoon full of the dough, squish it in your hands a little until it starts to hold together.  Then form into balls, place on dehydrator tray, and make thumb imprint holes in the center.  These cookies can be whatever size you like, but they are very filling.  I usually make them a bit small, with a generous thumbprint for lots of caramel.  I get about two dozen cookies from a batch.
- Drain & rinse the soaked pitted dates.  Place them in a high-powered blender, along with the rest of the caramel filling ingredients, except the coconut milk and rose petals.  Take the chilled coconut milk can out of the fridge (do NOT shake it).  Open it, and you should find the thick coconut cream has collected at the top.  Scrape the cream out of the can and add it to the blender with the rest of the caramel filling ingredients (not rose petals, those are garnish).  You can save the rest of the coconut milk can (the liquid) for a smoothie or soup. Blend on high until you have a smooth caramel sauce.  This is the BEST caramel!  There will be extra, so you can save it in the refrigerator to eat on other things.  Fill the thumbprints in the cookies with caramel filling. 
- Sprinkle dried rose petals on top of the cookies.  Then dehydrate them 8-10 hours or overnight at 120 degrees.
- Chocolate dip (OPTIONAL) - When cookies are done, melt your chocolate chips in a double boiler situation. Once melted, dip the bottom of each cookie in the chocolate and place on parchment paper lined tray or dish.  Then put the tray or dish in the freezer for 5 or 10 minutes, so the chocolate firms up.  This is an optional step, but it really makes these cookies sooo much better.  Highly recommended! 
Store the cookies in an air-tight container in the refrigerator.  Since there is coconut milk in them, you'll want to eat them within the week, or freeze them if you plan on keeping some of them longer. 
We hope you give these a try...or at least the caramel sauce.  It is so good I could eat a jar of it by itself :)  Thanks for reading, and let us know what you think in the comments!
PS - not for kitties, but he was very interested ;)