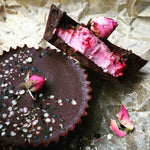 Raw chocolate is an amazing treat to have around the house, and it feels extra satisfying to know you made it yourself. It's also a really fun way to include adaptogens, herbs, or superfoods in your diet.  They mix in perfectly, enhance the flavor, and add a major nutrient boost.  The chocolate base in this post is my go-to recipe.  You can make it by itself and have a batch to snack on all week, or you can make something fancy and indulgent, like these Raw Raspberry Rose Coconut Butter Cups!
---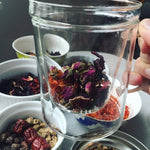 This beautiful blend of Chinese medicinal herbs nourishes your body so you can shine from within. They work to calm the spirit, move constrained "qi" or energy through the body for improved circulation, aid digestion and improve nutrient absorption, benefit the skin and nourish the blood and fluids or "yin" in the body. In other words, these herbs are adaptogenic, antibacterial, anti-inflammatory, and anti-oxidant rich. They regulate cholesterol and blood pressure, stimulate the immune system, and calm the nervous system. All of these benefits direct from nature!
---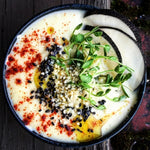 Hello there! As the first recipe on CocoGlow, I'm really happy to share one of my favorite soups.  Cauliflower and blended soups are two of my favorite things to eat, so this is a very regular dinner over at my place.  It came about when I got a rutabaga in my farm share and decided to toss it into the cauliflower soup on the stove.  I couldn't believe what a beautiful flavor combination I ended up with!