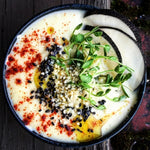 Hello there!
As the first recipe on CocoGlow, I'm really happy to share one of my favorite soups.  Cauliflower and blended soups are two of my favorite things to eat, so this is a very regular dinner over at my place.  It came about when I got a rutabaga in my farm share and decided to toss it into the cauliflower soup on the stove.  I couldn't believe what a beautiful flavor combination I ended up with!
This recipe has a few possible variations.  There are two options for making it a creamy soup (cashew cream or coconut milk), or you can opt for a lighter meal and skip the cream.  Either way, it is delicious, nutritious, and filling.  It packs in plenty of servings of vegetables, healthy fats, lots of fiber, and protein (if you make the roasted chickpea croutons along with it).  Oh, and the most important thing: flavor!!
Creamy Cauliflower & Rutabaga Soup with Roasted Chick Peas
Ingredients:
1 medium head cauliflower – cut into florets
1 tablespoon coconut oil
1 medium/large rutabaga – peeled and cubed
3 celery stalks
1 medium yellow or sweet onion – peeled and chopped
3-4 cloves garlic
4 cups water
2 teaspoons good quality sea salt
1 teaspoon dried dill
½ teaspoon dried basil
¼ teaspoon black pepper
2 tablespoons nutritional yeast
Juice of half a lemon
1 cup cashews - soaked for 4 hours – Optional, to make cashew cream, see below*
Smoked Paprika - Optional
*Cashew Cream
Place the cashews in a glass bowl of water, and cover with a tea towel. Try to do this at least 4 hours in advance, so they'll be ready when you go to make your soup. Drain and rinse the cashews. Then, combine with 1 cup fresh water and a generous pinch of sea salt in a high powered blender. Blend until very smooth and creamy. Set aside.
Soup Instructions:
Place the coconut oil and chopped onion in a large soup pot on medium/high heat. Cook, stirring occasionally, until the onion becomes a bit translucent and fragrant. Add in the chopped garlic, and a few minutes later, the chopped celery. Let this cook for about 5 minutes, stirring as needed. If it sticks to the pan, add a little more coconut oil.
Add the cauliflower & rutabaga to the pot. Then, add in the sea salt, dill, nutritional yeast, basil, & black pepper. Stir until all the veggies are well coated in the herb mixture. Pour in the 4 cups of water.
Reduce the heat to medium, put a lid on the pot, and let this cook until the veggies soften a bit. This is usually about 20 - 30 minutes for me. Remove the soup from the heat and let it sit to cool down just a little.
Transfer the soup to a high powered blender to puree. I sometimes have to do this in two batches; this makes a lot of soup! Return to the pot to reheat, if necessary.
Add the lemon juice and ½ of the cashew cream. Stir to combine well. This may make the soup creamy enough for you, in which case you can save the remaining cashew cream to use later. Add the rest if you like a creamier consistency.
Ladle the soup into serving bowls and top with a sprinkling of smoked paprika and fresh herbs or roasted chick peas (quick recipe below). This is optional, but really delicious. Soup garnishes are a great way to get extra flavor and nutrients!My favorites are: roasted chick peas, fresh herb sprigs, sliced radishes, a drizzle of olive oil, black sesame seeds, hemp seeds, lemon slices, roasted broccoli, or microgreens.
*Tip:If you have a nut allergy or don't have time to make the cashew cream, there are a couple other options. First, it's ok to omit it (add more water if necessary). Or, substitute unsweetened coconut milk. Cashews and coconut milk both have a little natural sweetness & creaminess that fill out the flavor profile nicely.
Quick recipe for the chick pea "croutons":
Preheat oven to 350 degrees. Rinse and drain one can chick peas. Place in oven safe pan, preferably one big enough to spread them out a bit. Toss in coconut oil, good quality sea salt, and your favorite herbs. I use a quick sprinkling of nutritional yeast, turmeric, dried dill, garlic powder, and black pepper. Cook for 20 – 30 minutes, depending on how crispy you like them. The longer, the crisper! These go so well with soup; enjoy!!
I sincerely hope you enjoy the recipe.  If you have any questions, please feel free to ask them in the comments section.  I'd love to answer and help in any way I can!  Thank you so much for reading, and I can't wait to be back in touch soon to share more delicious recipes.  Treat yourselves right! ;)